羅怡卿 教授 (Lo, Yi-Ching)
兼醫學院副院長及學科主任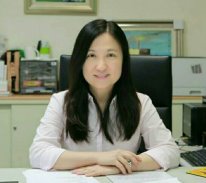 電話:+886-7-3121101 ext.2139,2243 #19、20
傳真:+886-7-3234686
學歷:

高雄醫學大學 醫學研究所 博士
高雄醫學大學 醫學研究所 碩士
高雄醫學大學 藥學系 學士

研究專長:藥理學、新藥研發(改善神經退化及肌少症)、代謝及粒線體功能異常與老化相關之研究
研究方向:

代謝性疾病及神經退化疾病之藥物開發

台產植物芳香組成配方之研究及應用

神經肌肉退化及疼痛之動物疾病模式建立
---
教學
主負責專業課程
碩士班一年級:藥理學及研究設計、藥理學特論、中草藥藥理學特論
博士班一年級:高級中草藥藥理學特論
---
參與其他專業課程
大學部醫學系、後醫學系:block 課程
大學部牙醫學系三年級:藥理學(含牙科藥理學)、藥理學實驗
大學部藥學系二年級:藥理學、藥理學實驗
大學部護理系二年級:藥理學
研究
研發可改善骨骼肌質量,肌力及運動功能之傳統中藥及天然物: 針對高糖、發炎及老化之實驗疾病模式

(3年)


科技部108年度專題研究計畫 (108/08/01~111/07/31)

運用智慧電子感官分析系統協助開發具神經保護作用之台產植物芳香組成配方 (3年)




科技部105年度提升私校研發能量專案計畫(整合型) (105/08/01~108/07/31)

減緩神經退化及增加骨骼肌肌肉蛋白質生成之傳統中藥及天然藥物開發

(3年)




科技部105年度專題研究計畫 (105/08/01~108/07/31)

神經退化性疾病之多重標的治療藥物開發:傳統中藥、天然物及化學成物 (3年)




科技部102年度專題研究計畫 (102/08/01~105/07/31)

地黃丸之神經保護作用及機轉探討:建立治療神經發炎及神經退化的傳統中藥開發平台 (3年)




科技部99年度專題研究計畫 (99/08/01~102/07/31)
著作
Chen YF, Wu SN, Gao JM, Liao ZY, Tseng YT, Fülöp F, Chang FR,

Lo YC*. The Antioxidant, Anti-Inflammatory, and Neuroprotective Properties of the Synthetic Chalcone Derivative AN07. Molecules. 2020 Jun 24;25(12):2907.

Chan MH, Chen HH,

Lo YC, Wu SN. Effectiveness in the Block by Honokiol, a Dimerized Allylphenol from Magnolia Officinalis

, of Hyperpolarization-Activated Cation Current and Delayed-Rectifier K

+

Current.

Int J Mol Sci. 2020 Jun 15;21(12):4260.

Kuo PC, Liu YC,

Lo YC

,

Wu SN. Characterization of Inhibitory Effectiveness in Hyperpolarization-Activated Cation Currents by a Group of ent-Kaurane-Type Diterpenoids From Croton tonkinensis.Int J Mol Sci. 2020 Feb 13;21(4):1268.

Chang WT, Gao ZH, Li SW, Liu PY,

Lo YC

,

Wu SN. Characterization in Dual Activation by Oxaliplatin, a Platinum-Based Chemotherapeutic Agent of Hyperpolarization-Activated Cation and Electroporation-Induced Currents. Int J Mol Sci. 2020 Jan 8;21(2):396.

Hsu HT,

Lo YC*

,

Wu SN. Characterization of Convergent Suppression by UCL-2077 (3-(Triphenylmethylaminomethyl)pyridine), Known to Inhibit Slow Afterhyperpolarization, of erg-

Mediated Potassium Currents and Intermediate-Conductance Calcium-Activated Potassium Channels.

Int J Mol Sci. 2020 Feb

20;21(4):1441.

Chang WT, Gao ZH,

Lo YC

,

Wu SN. Evidence for Effective Inhibitory Actions on Hyperpolarization-Activated Cation Current Caused by Ganoderma

Triterpenoids, the Main Active Constitutents of

Ganoderma

Spores.

Molecules. 2019 Nov 22;24(23):4256.

Yang CS, Lai MC, Liu PY,

Lo YC, Huang CW, Wu SN. Characterization of the Inhibitory Effect of Gastrodigenin and Gastrodin on M-type K

+

Currents in Pituitary Cells and Hippocampal Neurons.

Int J Mol Sci. 2019 Dec 23;21(1):117.
Tseng YT, Tsai YH, Fülöp F, Chang FR, Lo YC*.

2-Iodo-4'-Methoxychalcone Attenuates Methylglyoxal-Induced Neurotoxicity by Activation of GLP-1 Receptor and Enhancement of Neurotrophic Signal, Antioxidant Defense and Glyoxalase Pathway. Molecules. 2019 Jun 16;24(12).

Tseng YT, Hsu HT, Lee TY, Chang WH, Lo YC*. Naringenin, a dietary flavanone, enhances insulin-like growth factor 1 receptor-mediated antioxidant defense and attenuates methylglyoxal-induced neurite damage and apoptotic death. Nutr Neurosci

.

2021

Jan 24(1):71-81.

Tseng YT, Chang WH, Lin CC, Chang FR, Wu PC, Lo YC*. Protective effects of Liuwei dihuang water extracts on diabetic muscle atrophy. Phytomedicine

.

2019

Feb;53:96-106.

Tseng YT, Lin WJ, Chang WH, Lo YC*. The novel protective effects of loganin against 1-methyl-4-phenylpyridinium-induced neurotoxicity: Enhancement of neurotrophic signaling, activation of IGF-1R/GLP-1R, and inhibition of RhoA/ROCK pathway. Phytother Res

.

2019

Mar;33(3):690-701.

Chen HM, Hsiao SM, Kuo MC, Lo YC, Huang MF, Yeh YC, Yen CF, Chen CS.

Identifying early decline of daily function and its association with physical function in chronic kidney disease: performance-based and self-reported measures.PeerJ. 2018 Jul 18;6:e5286. doi: 10.7717/peerj.5286.

Hsu HT, Tseng YT, Wong WJ, Liu CM, Lo YC.*

Resveratrol prevents nanoparticles-induced inflammation and oxidative stress via downregulation of PKC-α and NADPH oxidase in lung epithelial A549 cells. BMC Complement Altern Med. 2018 Jul 9;18(1):211.

So EC, Wu SN, Lo YC, Su K. Differential regulation of tefluthrin and telmisartan on the gating charges of I

Na

activation and inactivation as well as on resurgent and persistent I

Na

in a pituitary cell line (GH

3

). Toxicol Lett. 2018 Mar 15;285:104-112.
So EC, Wang Y, Yang LQ, So KH, Lo YC, Wu SN. Multiple regulatory actions of 2-guanidine-4-methylquinazoline (GMQ), an agonist of acid-sensing ion channel type 3, on ionic currents in pituitary GH

3

cells and in olfactory sensory (Rolf B1.T) neurons. Biochem Pharmacol. 2018 May;151:79-88.
Tseng YT, Jong YJ, Liang WF, Chang FR, Lo YC*. The water extract of Liuwei dihuang possesses multi-protective properties on neurons and muscle tissue against deficiency of survival motor neuron protein.

Phytomedicine

. 2017 Oct 15;34:97-105.
Liu CM, Kao CL, Tseng YT, Lo YC*, Chen CY. Ginger Phytochemicals Inhibit Cell Growth and Modulate Drug Resistance Factors in Docetaxel Resistant Prostate Cancer Cell.

Molecules

. 2017 Sep 5;22(9).
Hsu HT, Lo YC, Huang YM, Tseng YT, Wu SN. Important modifications by sugammadex, a modified γ-cyclodextrin, of ion currents in differentiated NSC-34 neuronal cells.

BMC Neurosci

. 2017 Jan 3;18(1):6.
Tseng YT, Chen CS, Jong YJ, Chang FR, Lo YC*. Loganin possesses neuroprotective properties, restores SMN protein and activates protein synthesis positive regulator Akt/mTOR in experimental models of spinal muscular atrophy.

Pharmacol Res

. 2016 May; 27;111:58-75.
Lo YC, Tseng YT, Liu CM, Wu BN, Wu SN. Actions of KMUP-1, a xanthine and piperazine derivative, on voltage-gated Na+ and Ca2+ -activated K+ currents in GH3 pituitary tumor cells.

Br J Pharmacol

. 2015 Aug 15. doi: 10.1111/bph.13276.
Wu SN, Huang YM, Kao CA, Chen BS,

Lo YC*

.Investigations on contribution of glial inwardly-rectifying K(+) current to membrane potential and ion flux: an experimental and theoretical study.

Kaohsiung J Med Sci

. 2015 Jan;31(1):9-17.
Hsu HT, Tseng YT, Hsu YY, Cheng KI, Chou SH, Lo YC*. Propofol attenuates lipopolysaccharide-induced reactive oxygen species production through activation of Nrf2/GSH and suppression of NADPH oxidase in human alveolar epithelial cells.

Inflammation

. 2015 Feb;38(1):415-23.
Wu SH, Huang SH, Lo YC, Chai CY, Lee SS, Chang KP, Lin SD, Lai CS, Yeh JL, Kwan AL. Autologous adipose-derived stem cells attenuate muscular atrophy and protect spinal cord ventral horn motor neurons in an animal model of burn injury.

Cytotherapy

. 2015 Aug;17(8):1066-75.

Hsu HT, Tseng YT, Hsu YY, Cheng KI, Chou SH,

Lo YC*

.

Propofol Attenuates Lipopolysaccharide-Induced Reactive Oxygen Species Production Through Activation of Nrf2/GSH and Suppression of NADPH Oxidase in Human Alveolar Epithelial Cells. Inflammation.2015 Feb;38(1):415-23.
Hsu HT, Tseng YT, Lo YC, Wu SN. Ability of naringenin, a bioflavonoid, to activate M-type potassium current in motor neuron-like cells and to increase BKCa-channel activity in HEK293T cells transfected with α-hSlo subunit.

BMC Neurosci

. 2014 Dec 24;15:135. doi: 10.1186/s12868-014-0135-1.
Tseng YT, Chang FR,

Lo YC*.

The Chinese herbal formula Liuwei dihuang protects dopaminergic neurons against Parkinson's toxin through enhancing antioxidative defense and preventing apoptotic death. Phytomedicine. 2014 Apr; 21(5):724-33
Hsu YY, Jong YJ, Lin YT, Tseng YT, Hsu SH,

Lo YC*.

Nanomolar Naloxone Attenuates Neurotoxicity Induced by Oxidative Stress and Survival Motor Neuron Protein Deficiency. Neurotox Res.2014 Apr; 25(3):262-70
Cheung So E,

Lo YC

, Chen LT, Kao CA, Wu SN. High effectiveness of triptolide, an active diterpenoid triepoxide, in suppressing Kir-channel currents from human glioma cells. Eur J Pharmacol.2014 Sep; 738(5):332-41
Kuo FC, Wu CY, Kuo CH, Wu CF, Lu CY, Chen YH, Chen CY,

Lo YC.

Wu MT, Hu HM. The Utilization of a New Immunochromatographic Test in Detection of Helicobacter pylori Antibody from Maternal and Umbilical Cord Serum. Biomed Res Int.

2014

; 2014:568410. doi: 10.1155/2014/568410.

Liu CM, Fan YC,

Lo YC

, Wu BN, Yeh JL, Chen IJ. Cyclic guanosine monophosphate-enhancing reduces androgenic extracellular regulated protein kinases-phosphorylation/Rho kinase II-activation in benign prostate hyperplasia. Int J Urol. 2014 Jan; 21(1): 87-29
Hsu YY, Tseng YT,

Lo YC*.

Berberine, a natural antidiabetes drug, attenuates glucose neurotoxicity and promotes Nrf2-related neurite outgrowth. Toxicol Appl Pharmacol. 2013 Nov; 272(3):787-796.
Chen CS, Tseng YT, Hsu YY,

Lo YC*

.

Nrf2-Keap1 Antioxidant Defense and Cell Survival signaling are up-regulated by 17β-Estradiol in Homocysteine-treated Dopaminergic SH-SY5Y Cells. Neuroendocrinology. 2013; 97(3):232-41
Kuo FC, Tseng YT, Wu SN, Wu MT,

Lo YC*

.

(2013) Melamine activates NFκB/COX-2/PGE2 pathway and increases NADPH oxidase-dependent ROS production in macrophages and human embryonic kidney cells. Toxicol In Vitro.2013 Sep; 27(6):1603-11

Lo YC

,

* Shih YT, Tseng YT, Hsu HT. Neuroprotective effects of San-Huang-Xie-Xin-Tang in the MPP+/MPTP models of Parkinson's disease in vitro and in vivo. Evid Based Complement Alternat Med. 2012; Article ID 501032.
Hsu YY, Chen CS, Wu SN, Jong YJ,

Lo YC*.

Berberine activates Nrf2 nuclear translocation and protects against oxidative damage via a phosphatidy- linositol 3-kinase/Akt-dependent mechanism in NSC34 motor neuron-like cells. Eur J Pharm Sci. 2012 Aug; 46(5): 415-25
Hsu YY, Jong YJ, Tsai HH, Tseng YT, An LM,

Lo YC*.

Triptolide increases SMN transcript and protein levels in human SMA fibroblasts and improves survival in SMA-like mice. Br J Pharmacol. 2012 Jun;166(3):1114-26
Tseng YT, Hsu YY, Shih YT,

Lo YC*.

Paeonol Attenuates Microglia-Mediated Inflammation and Oxidative Stress-Induced Neurotoxicity in Rat Primary Microglia and Cortical Neurons. Shock. 2012 Mar; 37(3): 312-8
Wu SN,

Lo YC

, Chen BS, Wu FT, So EC. Possible effects of reduced conductance in delayed-rectifier K(+) current on neuronal firing. Mov Disord. 2012 Oct; 27(12):1581-2
Wu SN, Hsu MC, Liao YK, Wu FT, Jong YJ,

Lo YC*.

Evidence for inhibitory effects of flupirtine, a centrally acting analgesic, on delayed rectifier k(+) currents in motor neuron-like cells Evid Based Complement Alternat Med. 2012; Article ID 148403
Wu SN,

Lo YC

, Chen BS, Cheung So E, Chen LT. Contribution of blocked potassium current conductance and increased conductance of persistent sodium current to the afterdischarge in myelinated neuron. Muscle Nerve. 2012 Aug; 46(2):297-9
Wu SN*,

LoYC

, Shen AY, Chen BS. Contribution of non-inactivating Na+ current induced by oxidizing agents to the firing behavior of neuronal action potentials: experimental and theoretical studies from NG108-15 neuronal cells. Chin J Physiol.

2011 Feb;

54(2):19-29
Wu SN*, Chen BS,

Lo YC.

Evidence for aconitine-induced inhibition of delayed rectifier K(+) current in Jurkat T-lymphocytes. Toxicology. 2011 Oct; 289(1):11-8.
Wu SN*, Huang HC, Yeh CC, Yang WH,

Lo YC.

Inhibitory effect of memantine, an NMDA-receptor antagonist, on electroporation-induced inward currents in pituitary GH3 cells. Biochem Biophys Res Commun. 2011 Feb; 405(3): 508-13
Liu Y,

Lo YC

, Qian L, Crews F T, Wilson B, Chen HL, Wu H M, Chen SH, Wei K, Lu R B. Ali S, Hong JS.* Verapamil protects dopaminergic neuron damage through a novel anti-inflammatory mechanism by inhibition of microglial activation. Neuropharmacology. 2011 Feb-Mar; 60(2-3):373-80.
Shih YT, Chen IJ, Wu YC,

Lo YC*

. San-Huang-Xie-Xin-Tang protects against activated microglia- and 6-OHDA-induced toxicity in neuronal SH-SY5Y cells. Evid Based Complement Alternat Med. 2011;2011:429384. doi: 10.1093/ecam/nep025.
Shih YT, Chen PS, Wu CH, Tseng YT, Wu YC.*,

Lo YC.

* Arecoline, a major alkaloid of the areca nut, causes neurotoxicity through enhancement of oxidative stress and suppression of the antioxidant protective system. Free Radic Bio Med.2010 Non; 49(10):1471-9
Chen BS,

Lo YC

, Lius YC, Wu SN. * Effects of transient receptor potential-like current on the firing pattern of action potentials in the Hodgkin-Huxley neuron during exposure to sinusoidal external voltage. Chin J Physiol. 2010 Dec;53(6): 423-9
Hsu SH, Lai MC, Er TK, Yang SN, Hung CH, Tsai HH, Lin YC, Chang JG,

Lo YC

, Jong YJ.* Ubiquitin carboxyl-terminal hydrolase L1 (UCHL1) regulates the level of SMN expression through ubiquitination in primary spinal muscular atrophy fibroblasts. Clin Chim Acta. 2010 Dec; 411(23-24):1920-8.
Hsu YY, Liu CM, Tsai HH, Jong YJ, Chen IJ,

Lo YC*

. KMUP-1 attenuates serum deprivation-induced neurotoxicity in SH-SY5Y cells: Roles of PKG, PI3K/Akt and Bcl-2/Bax pathways. Toxicology. 2010 Jan; 268(1-2): 46-54.
Shih YT, Hsu YY, Chang FR, Wu YC,

Lo YC.

* 6-Hydroxycleroda -3,13-dien-15,16-olide protects neuronal cells from lipopolysaccharide-induced neurotoxicity through the inhibition of microglia-mediated inflammation. Planta Med. 2010 Feb; 76(2): 120-7.
Chen BS,

Lo YC

, Peng H, Hsu TI, Wu SN*. Effects of ranolazine, a novel anti-anginal drug, on ion currents and membrane potential in pituitary tumor GH(3) cells and NG108-15 neuronal cells. J Pharmacol Sci, 2009 Jul; 110(3): 295-305.
Wu SN*, Chen BS, Hsu T I, Peng H, Wu YH,

Lo YC.

Analytical studies of rapidly inactivating and noninactivating sodium currents in differentiated NG108-15 neuronal cells. J Theor Biol, 2009 Jul; 259(4):828-36.

Lo YC*

, Shih YT, Wu DC, Lee YC. In vitro effects of Helicobacter pylori-induced infection in gastric epithelial AGS cells on microglia-mediated toxicity in neuroblastoma SH-SY5Y cells. Inflamm Res, 2009 Jun; 58(6): 329-35.
Liu CM,

Lo YC

, Tai MH, Wu BN, Wu WJ, Chou YH, Chai CY, Huang CH, Chen IJ*. Piperazine-designed alpha(1A)/alpha(1D)- adrenoceptor blocker KMUP-1 and doxazosin provide down-regulation of androgen receptor and PSA in prostatic LNCaP cells growth and specifically in xenografts. Prostate, 2009 May; 69(6): 610-623.
Wu SN*, Wu YH, Chen BS,

Lo YC

, Liu YC. Underlying mechanism of actions of tefluthrin, a pyrethroid insecticide, on voltage-gated ion currents and on action currents in pituitary tumor (GH3) cells and GnRH-secreting (GT1-7) neurons. Toxicology. 2009 Apr; 258(1): 70-7.
研討會論文
Fang WY, Zhang ZX, Ferenc Fülöp, Chang FR, Lo YC*. (2020) Synthetic Chalcone Derivative AN07 Attenuates Lipopolysaccharide-Induced Inflammatory and Atrophy Signaling in C2C12 Myotubes. 第35 屆天然藥物研討會暨第三屆杜聰明博士醫學論壇. 台北 (Poster)
Chang WH, Lo WW, Chen HT, Ko HH, Wu PC, Lo YC*. (2019) The Effects of Linalool, A Major Constituent of Essential Oils in Aromatic Plants, on the GABAergic Signaling and Sleep-Wake Cycle in Sprague-Dawley Rats. The 34th Symposium of Natural Products. 桃園. (Poster)
Lin CC, Chang WH, Lee TY, Ko HH, Chen CS, Lai CL, Lo YC*. (2019) Effects of linalool on the dopamine neurons and motor symptoms in experimental models of Parkinson's disease. 第34屆生物醫學聯合學術年會. 台北. (Poster)
Lo YC, Tseng YT, Chang WH, Lin CC. (2018) Liuwei dihuang water extract prevents skeletal muscle atrophy in streptozotocin-induced diabetic mice. The 4th Global Chinese Symposium & The 8th Symposium for Cross-straits, Hong Kong and Macao on Free Radical Biology and Medicine. 中國/澳門. (Poster)
Tseng YT, Lin CC, Chang FR, Lo YC*. (2018) 2-iodo-4'-methoxychalcone protects neurons against methylglyoxal-induced oxidative stress. The 33th Joint Annual Conference of Biomedical Sciences. Taiwan/Taipei. (Poster)
Tseng YT, Lo YC *, Liu CM, Hung-Te Hsu, Pao-Chu Wu. (2018) Protective effects of the water extract of Liuwei dihuang on methylglyoxal-induced atrophy in myotubes. WCP 2018.Japan/Kyoto. (Poster)
Lo YC *, Wu SN, Chang WH, Tseng YT, Ko HH. (2018) Effects of D-limonene on neurotropic factors and ionic currents in the olfactory nerve cells Rolf B1.T. WCP 2018.

Japan/Kyoto. (Poster)

Lo YC, Tseng YT.(2017) Liuwei dihuang, a traditional Chinese medicine, attenuates methylglyoxal-induced activation of oxidative stress and protein degradation in C2C12 skeletal muscle myotubes. 10th Asia-Pacific Pharma Congress. Singapore (Poster)
Lo YC, Tseng YT. (2016) Loganin protects neurons against Parkinsonian toxin 1-methyl-4-phenyl-pyridinium via activating glucagon-like peptide-1 receptor-mediated autophagy pathway in primary mesencephalic cultures. The 4th International Conference on Molecular Neurodegeneration. Korea/Seoul (Poster)

Tseng

YT,

Lo

YC*. Protective effects of loganin against Parkinson's toxin-induced neurite damage and apoptotic cell death in primary mesencephalic neurons.

第18屆國際東洋醫學大會.

Japan/

Okinawa. (Poster)

Liao

ZY,

Tseng

YT,

Liu

CM ,

Chang

FR,

Lo

YC*

. (2016)

A novel chalcone derivative attenuates lipopolysaccharide-induced inflammation and oxidative stress via activating PPAR-γ in RAW264.7 cells.

The 31th Joint Annual Conference of Biomedical Sciences. Taiwan/Taipei. (Poster)

Gao JM, Tseng YT, Chang FR,

Lo YC.*

(2015) AN07, a novel chalcone derivative, attenuates methylglyoxal-induced neuronal death and promotes neurite outgrowth. The 30th Joint Annual Conference of Biomedical Sciences.

Taiwan/Taipei. (Poster)

Lo YC*

, Tseng YT, Chang FR. (2015) Protective effects of CHA79, a synthetic chalcone derivative, on methylglyoxal-induced neurotoxicity. ASCEPT-BPS Joint Scientific Meeting 2015. China/

Hong Kong. (Poster)

Tseng YT, Jong YJ, Lo YC *. (2015) Loganin modulates protein synthesis signaling and promotes muscle strength in SMN��7 mice, a severe disease model of spinal muscular atrophy. 第三十屆天然藥物研討會. Taiwan/Taipei (Poster)

Lo YC

*, Tseng YT. (2014) Loganin protects motor neuron against survival motor neuron protein deficiency. 17th World Congress of Basic & Clinical Pharmacology. South Africa/

Cape Town. (Poster)

Tseng YT,

Lo YC.

* (2014) Resveratrol attenuates inflammation and oxidative stress in carbon black nanoparticles-treated A549 human lung epithelial cells. 5th FIP Pharmaceutical Sciences World Congress.

Australia/Melbourne. (Poster)

Hsu HT, Tseng YT, Hsu YY, Cheng KI, Chou SH,

Lo YC.

* (2013) Anti-inflammation and Nrf2-mediated antioxidant defense contribute to propofol protection in LPS-treated A549 cells. 2013 Annual Meeting of Taiwan Society of Anesthesiologists. (Poster)
Tseng YT, Hsu YY, Jong YJ,

Lo YC.

* (2013) Herbal Drugs Development Platform for Spinal Muscular Atrophy. International Conference of Traditional and Complementary Medicine on Health 2013. Taiwan/Taipei (Poster)
Hsu YY,

Lo YC.

* (2013) Targeting Nrf2 signaling in oxidative stress-induced neurotoxicity and neurite degeneration in experimental diabetic neuropathy by antidiabetes drug berberine. International Conference of Traditional and Complementary Medicine on Health 2013.

Taiwan/Taipei (Poster)

Lo YC

*, Tseng YT, Liang WF, Jong YJ. (2013) Therapeutic potential of Liuwei dihuang wang, a traditional Chinese Medicine, for spinal muscular atrophy in vitro and in vivo. Experimental Biology 2013.

United States of America/

Boston

(Poster)

Liang WF, Tseng YT, Jong YJ,

Lo YC.

* (2013) Liuwei Dihuang Wang Protects NSC34 Cells against Smn Deficiency. The 28th Joint Annual Conference of Biomedical Sciences. Taiwan/Taipei (Poster)
Lin WJ, Tseng YT, Chen CS,

Lo YC.

* (2013) Protective effect of loganin against MPP+-induced neurotoxicity. The 28th Joint Annual Conference of Biomedical Sciences.

Taiwan/Taipei (Poster)

Lo YC

*, Tseng YT. (2012) Neuroprotective effects of Liuwei dihung wan in the MPP+/MPTP models of Parkinson's disease in vitro and in vivo. 6th European Congress of Pharmacology. Spain/

Granada (Poster)

Wong WJ,

Lo YC.

* (2012) Dextromethorphan Protects Against Nanoparticles- Induced Inflammation and Oxidative Stress in Alveolar Epithelial Cells and Macrophages. The 27th Joint Annual Conference of Biomedical Sciences.

Taiwan/Taipei (Poster)
指導研究生
碩博士班研究生:
碩士班研究生

學生姓名

入學時間

博士班研究生

學生姓名

入學時間

李柏謙

109/08/01

羅婉文

107/08/01

張婉萱

109/08/01

林志晟

106/08/01

曾于庭

99/08/01

廖智堯

103/08/01

許弘德

98/08/01

高嘉懋

102/08/01

施宇姿

96/08/01

梁維芳

100/08/01

許雅雲

97/08/01

林婉蓉

100/08/01

劉棋銘

94/08/01
校內外榮譽
100學年度本校研究傑出教師

100學年度教學優良教師

100 學年度研究績優教師

100 學年度本校研究論文獎勵

100 學年度科技部補助大專校院獎勵特殊優秀人才

101 學年度本校技術移轉績優獎

101 學年度研究績優教師

101 學年度本校研究論文獎勵

101 學年度科技部補助大專校院獎勵特殊優秀人才

102 學年度本校研究論文獎勵

102 學年度科技部補助大專校院獎勵特殊優秀人才

103 學年度研究績優教師

103 學年度專利獲證優良獎

104 學年度研究績優教師

104 學年度研究成果績優獎

105 學年度研究績優教師

105 學年度課程評量傑出(有效平均值5.50以上)

105 學年度教師教學評量傑出(有效平均值5.50(含)以上)

106 年度研究成果績優獎一般教師組

106 年度研究績優教師

106-2 學年度教師課程評量傑出 (有效平均值5.50(含)以上)

107 年度研究成果績優獎一般教師組

107

學年度「教學優良教師」

107學年度技術移轉優良獎

108-1 學年度課程評量績優

(

有效平均值,5.40分(含)以上)

108-2 學年度課程評量績優

(

有效平均值,5.40分(含)以上)

榮獲本校2019年優秀論文獎

榮獲本校2019年研究成果績優獎

108學年度教師教學評量績優

榮獲本校2020年研究成果績優獎

榮獲本校2020年優秀論文獎